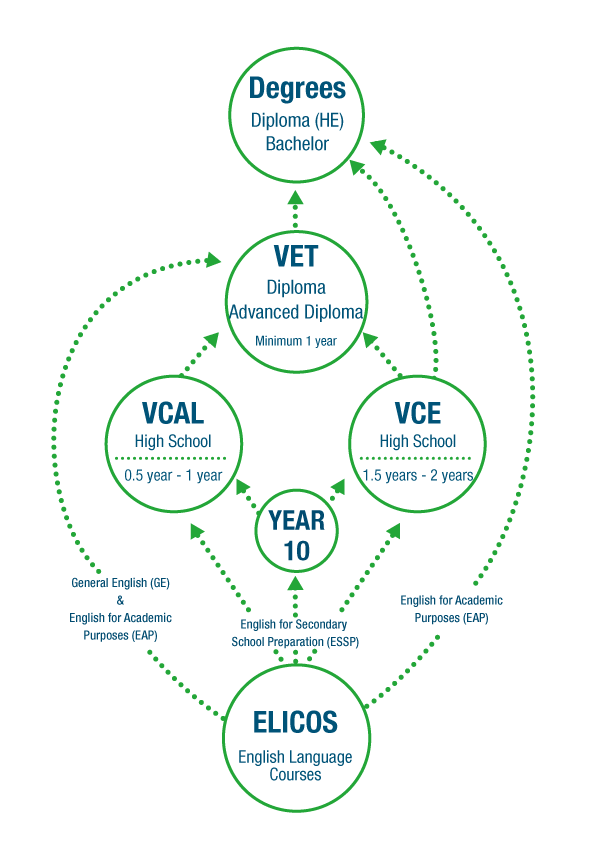 Degrees
Vocational Courses
High School » Victorian Certificate of Education (VCE)
High School » High School Year 10
High School » The Victorian Certificate of Applied Learning (VCAL) program
English Language Centre
Ozford provides quality education. If you successfully complete your studies with Ozford you could pursue the following pathways:
Degree pathways – advanced standing credit transfer of 1 year or more for Ozford VET Diploma and Advanced Diploma courses into relevant degrees. (Please check the table below)
VET and Higher Education pathway on successful completion of Ozford High School Year 12.
VET and Higher Education pathways for eligible candidates once you have successfully completed Ozford English Language Centre.
Ozford Departure Course

Ozford Degree
Credit Exemption / Credit Available
Balance of Course Duration
Diploma of Leadership and Management
Bachelor of Business
CRICOS: 088192D
Up to 80 credit points
Four Semesters
(2 years)
Diploma of Leadership and Management
Bachelor of Business (Accounting)
CRICOS: 088193C
Up to 80 credit points
Four Semesters
(2 years)
Advanced Diploma of Leadership and Management
Bachelor of Business
CRICOS: 088192D
Up to 120 credit points
Three Semesters
(1.5 years)
Advanced Diploma of Leadership and Management
Bachelor of Business (Accounting)
CRICOS: 088193C
Up to 120 credit points
Three Semesters
(1.5 years)
For more information please check www.ozford.edu.au/higher-education/